Due to the industrialisation and modernization of society, many of these old crafts almost died out. Even though this hasn't been a thriving industry for long there are still enthusiasts keeping the craft alive, and there is an increasing interest in the handicraft.
The Sámi people are an indigenous people inhabiting Sápmi, a large region encompassing large parts of northern Norway, Sweden and Finland, as well as a small part of Russia. The Sámis are mostly known for reindeer herding, music and food, as well as their traditional Sámi handicraft, duodji.
A new interest
In the past few years, the interest in Sámi culture has exploded. Sámi singers and artists have gained a lot of media attention and this has made people more engaged in the culture. As late as the '60s Norway had strict policies suppressing and norwegianizing the Sámi people. As a result of these policies, many Sámis were forced to abandon their culture and language, and within a few generations many families with Sámi heritage had lost most or even all of the Sámi culture.
All the Sámi media attention in recent years have made people more interested in the traditional Sámi way of living. Youth with Sámi heritage want to learn about their culture, and many have started learning the language, wearing Sámi clothing and doing Sámi handicrafts.
Today the demand for the craft is high enough for people to earn a living producing it. One of the people dedicated to this craft is Hilde Lund from Nordreisa in Northern Norway. She is what's called a duodjar, a professional duodji artist. For almost 25 years Hilde has been working with the craft, making traditional Sámi clothing, jewellery and accessories. Although there is enough demand to make a living, this is yet to be a trade for people that want to become rich.
"It doesn't make me rich on money, but I get quite rich on creativity"

Hilde Lund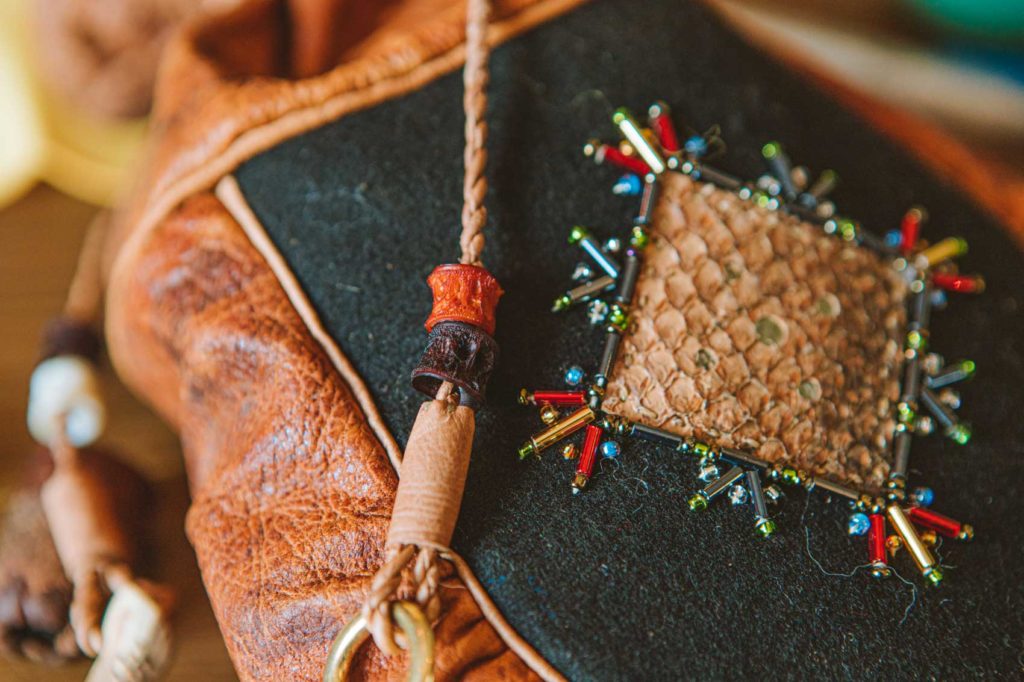 Exclusive customers
Norwegians aren't the only ones interested in the craft. Once Hilde had a visit by a Qatari royal family on holiday in Northern Norway. They were interested in buying gloves and hats made of reindeer leather and fox fur. Usually, she spends around a month making such a large order, but this time she had two weeks on completing the products for the royal family. It required a lot of hard work and ate a lot of free time, but she managed to finish it and the family was really satisfied with the result. In addition to the Qatari royals, Hilde has had visits from the Norwegian queen. The queen has an interest in Sámi handicraft and she's visited her several times during the last decade.
"It was absolutely a unique experience to suddenly have a royal family ordering my craft"

Hilde Lund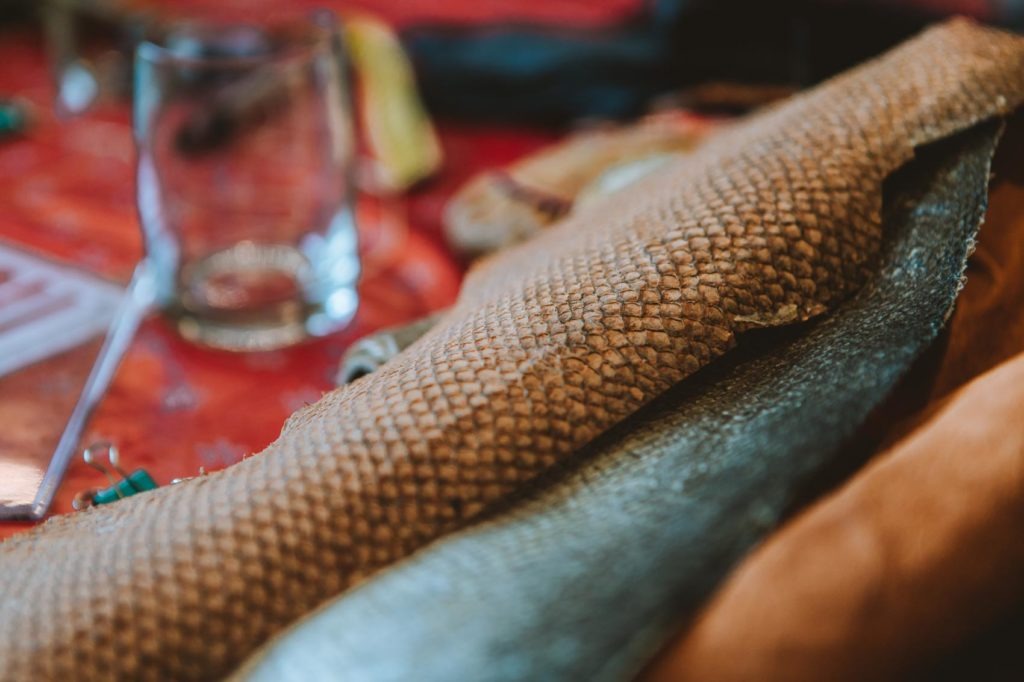 Unconventional materials
Following hundreds of years of old traditions, many craftsmen make their craft almost exclusively with local natural resources. Before the mass-industrialization surrounding the second world war, the arctic people mostly made their own clothes from local resources. Wool from sheep and goats, leather from cows and pelt of reindeer were common materials. In coastal areas where households had access to little to no livestock many used fish skin for clothing and apparel. The fish was skinned, the meat cooked, and the skin was dried and processed to make boots, hats and gloves.
Less than a century ago, this was still used actively by arctic people. The fish skin was mostly used by working-class people that could not afford more expensive fabrics and material. It is quite interesting that the material historically used in a poor man's clothing is now a growing exclusive trend.
No-waste production
As a result of people's poor economy in the early 1900s, no materials could be wasted. Everything had to be used. A fish wasn't just for food. Everything had its purpose. Hilde believes in the traditional no-waste philosophy. On the side of her handicraft, she works with catering, making food for events and gatherings. The meat is used for meals, the skin for jewellery and the bones for decorations.
Crafts dependent on natural resources often rely on season and weather. The process of gathering the materials to a purse may take as long as a year. Cod skin and reindeer pelt are acquired during the winter, goat willow bark is collected in the spring and salmon skin is a summertime resource. This is definitively a long and time-consuming process, but the quality and authenticity of the craft are worth it.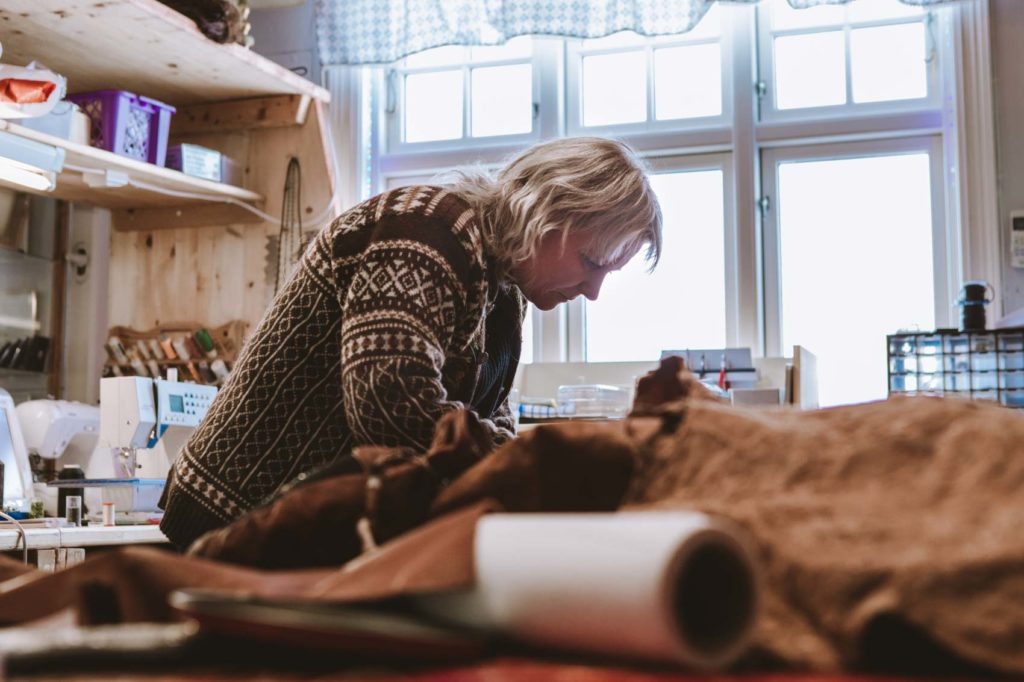 Keeping the craft alive
Today Hilde arranges courses teaching people duodji. Enthusiasts and other interested individuals from all over the region attend her courses to learn about and practise duodji. She's happy to see that it is such interest in the craft and that it will live on for the foreseeable future.
"It is always a pleasure doing these courses. It's so fun meeting and teaching people interested in the craft."

Hilde Lund
In later blog posts, we'll come back to and learn more about Sámi handicraft and culture. We at Nuet publish weekly posts about Scandinavian culture. Follow us at @nuetaquavit for instant updates in your feed, and check out our other posts at nuetaquavit.com/stories.
Sámi handicraft