Imagine hiking through beautiful, scenic woods and wilderness. Imagine the fresh breeze flowing through your hair, the sound of a small stream running right beside you and birds chirping in the distance. Imagine your sweat running cold down your neck, your lack of breath and the mild taste of blood when you finally conquer the last hill on your expedition, finally reaching the amazing view of a magnificent landscape. Now, imagine being able to go on this journey every day, just half an hour from your downtown big city apartment. Living in the Norwegian capital of Oslo you don't have to imagine it, you can do it, every day.
Accessible Trekking
Just 30 minutes from the heart of Oslo you find Nordmarka, a wilderness area with plenty of fishing waters, hiking trails, ski routes, and cabins. In the summer marked trials guide you to dozens of viewpoints, campsites and fishing spots. During the winter ski trails are marked with length and difficulty. It goes a lot of work into making hiking, skiing, and trekking easy and accessible for everyone. Most of the work done making, marking and maintaining miles upon miles of trails are done by volunteers and outdoors enthusiasts organized by the Norwegian Trekking Association (DNT). The work is done in the Norwegian dugnad-spirit, the spirit of voluntary work for everyone's benefit. As a result of this, thousands of Norwegians take trips to Nordmarka every year.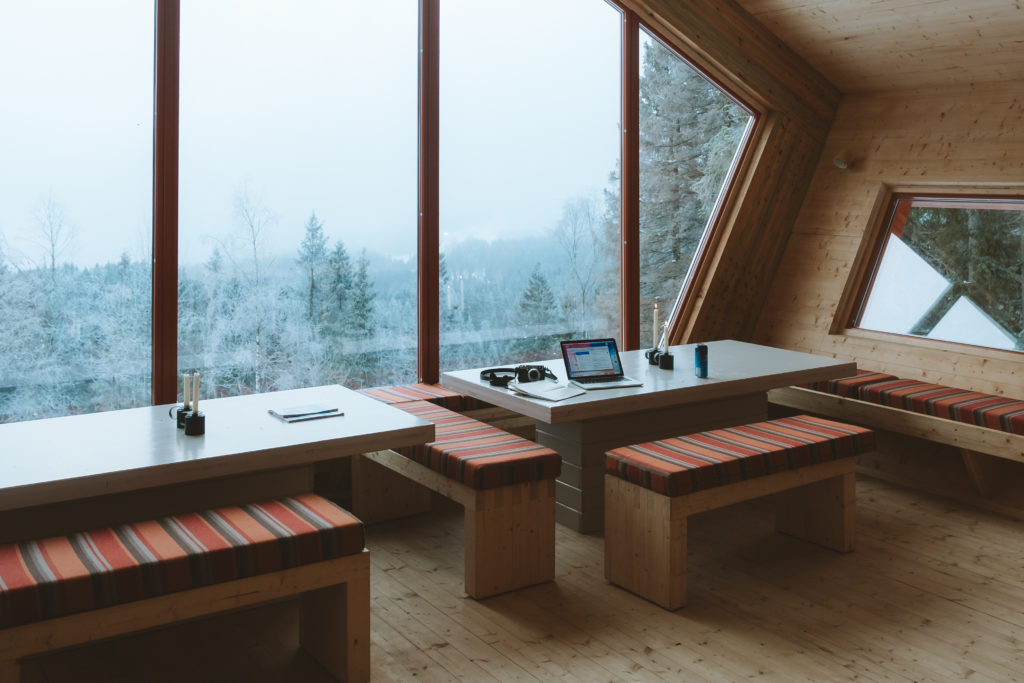 Fuglemyrhytta
In the south of Nordmarka, you find Fuglemyrhytta, one of Norway's many publicly rentable cabins. Owned and maintained by the Norwegian Trekking Organization (DNT), the cabin is open for visitors during daytime and rentable for over-night stays. The modern cabin features a large dining area accompanied by a panoramic view of Nordmarka, thus making it great for sunny summer days, rainy autumn evenings and cozy candle-lit nights. Housing ten beds and the spacious design makes it perfect for a weekend getaway with friends and family.
Primitive Facilities
In contrast to the modern looks, the cabin has a lack of modern facilities. With neither running water nor electricity the cabin is designed in the true Norwegian cabin spirit. Norwegian cabin culture revolves around keeping it simple, with few modern facilities and only the essential items for your stay. Just like the typical Norwegian cabin, there is no in-house water closet. Therefore, you do your business in the outhouse just outside the cabin. Water is gathered from the stream next to the cabin and warmed up by a wooden stove, quite fitting for the fascinating Norwegian cabin culture. So fascinating that we have dedicated a whole blog post to the Norwegian Cabin Obsession.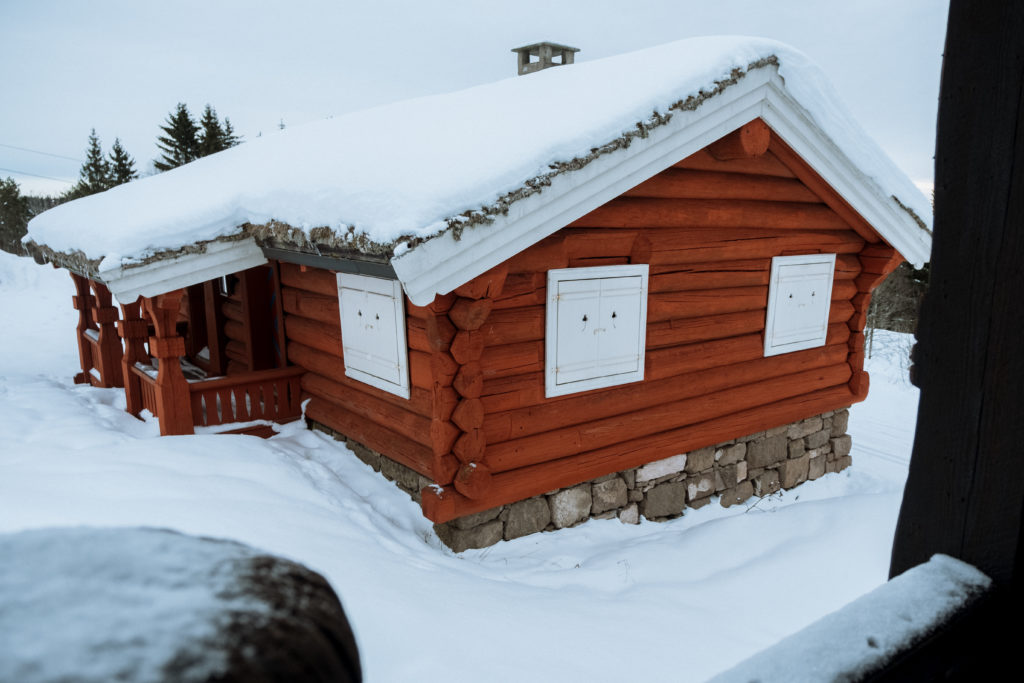 Nationwide Trekking Initiative
DNT does a great amount of work preparing hiking trails all over Norway. As a result of this extensive work hiking and outdoor activities have become easy and accessible for millions of Norwegians. In addition to thousands of miles of marked trails, DNT also has public cabins spread all over Norway. With over 500 cabins country-wide it is almost certain that there is a cabin near you, wherever you are.
Most of DNT's cabins are built and maintained in the same dugnad-spirit as the trails are. Professionals are partly funded through the Norwegian state-owned betting company, Norsk Tipping. It is an interesting thought that when buying lottery tickets and betting on horse derbies you indirectly fund the maintenance of hiking trails and cabins around Norway.
Interested in the Norwegian outdoors? Then we highly suggest checking out our story about the Secret Cabins of Northern Norway. We at Nuet publish weekly posts about Norwegian outdoors, culture, cuisine and more. Follow our Instagram @nuetaquavit for instant updates on our posts.