Unusual Dish
The cold room door in the kitchen slams on his way out. The black-clad man approaches the kitchen counter with the special ingredients in his arms. He places a small plastic container on the counter and pulls out a pink fillet, an espresso marinated salmon fillet. The thought of this might be weird for many, but for head chef of Restaurant Solvind, Alessandro Albertini, this is a masterpiece. He gently places the filet on top of a premade salad, before reaching for a strawberry jam jar. Out of the jar, he scoops a tablespoon of a black caviar-looking substance. The substance is homemade espresso gelatine, mimicking the shape of salmon caviar. He gently places the gelatine on top of the salmon. It wobbles around a little but calms down quickly. The gelatine is developed to boost the dish's coffee taste and to complement the visual expression of the dish, making it rather unique.
A Well Travelled Chef
Having travelled the world and cooked in restaurants of every cuisine imaginable, the chef has gathered lots of inspiration towards the menu he has created at Solvind. From Italy to the United States, from Australia to Norway, Alessandro has experienced it all. Combining 15 years of world-wide experience with local produce, Alessandro has created a culinary experience like no other. Three years ago he came to Norway for a job and quickly fell in love with the Nordic country. He settled down in Tromsø where he worked for a couple of years. In the fall of 2019, he got the offer to develop the menu and be head chef at Restaurant Solvind, where he now excels in culinary art.
Let's Experiment
As a culinary artist, Alessandro tries to experiment with new tastes he can bring to the table. If a chef truly wants to make a perfect meal, he has to experience the whole process of acquiring and preparing his produce. Therefore, Alessandro spends hours upon hours on the sea, fishing and experiencing the nature around him. A while ago he spent an evening frying and salting cod skin with the goal of making cod chips. After some trial and error, he concluded that there was a reason this was not a trend already. It was not bad, but it was not really good either. Although the result did not live up to his expectations, the experience might be the foundation for a new dish in the future.
"I like to experiment with new tastes. It does not always work, but it is a new experience."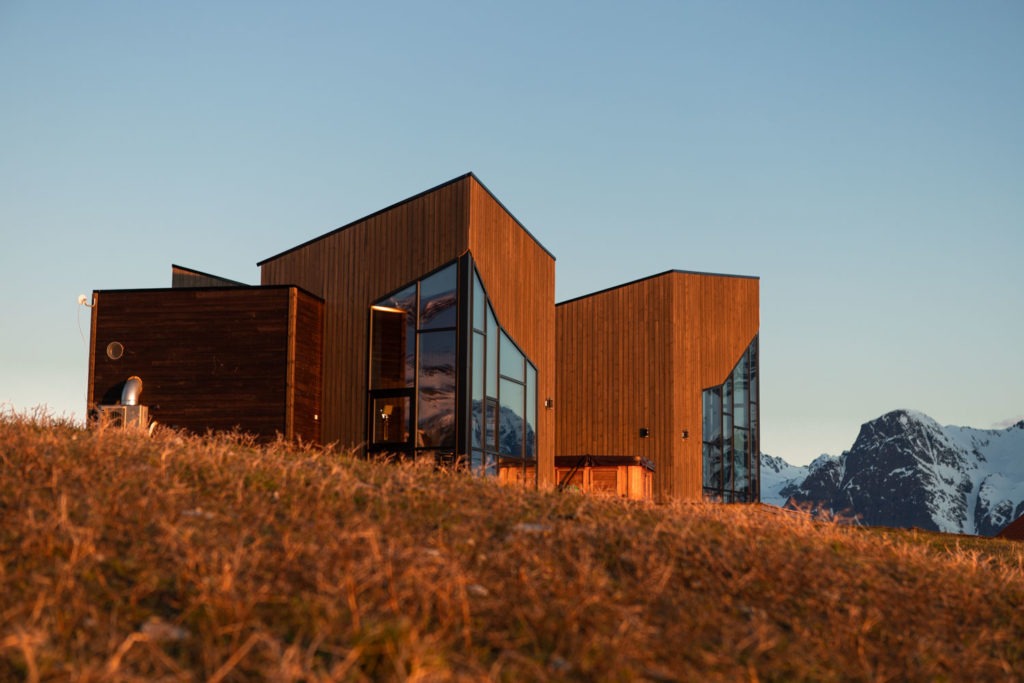 Great Tastes, Great View
Of course, the food is key for a good restaurant visit. Coming in on a close second place, the view and visual dining experience is quite important as well. Restaurant Solvind is one of few restaurants offering gourmet food served with an amazing alpine view. Being located on the tip of a small peninsula, the restaurant features great views of the surrounding nature. Straight across the fjord, the mighty Lyngen Alps, a 95 kilometres long alpine mountain range encircles the area. Here you are able to experience extraordinary cuisine in extraordinary views. Read more about the view and architecture in our story, Inspired by Surrounding Nature.
---
Interesting read? Then we highly suggest taking a look at our story A Taste of the Wild in Downtown Oslo, a story about how arctic reindeer is used for new experiences in downtown Oslo. Here at Nuet, we publish weekly blog posts about everything Scandinavian. Read more at nuetaquavit.com/stories and follow our Instagram @nuetaquavit for instant updates on new posts straight to your feed.