Doing Something New
In the early 2000s, a woman from Bergen grew tired of her everyday job and moved to Fitjar, a beautiful archipelago in Western Norway. She started a small project of making different natural soaps, selling it to local handicraft stores and venues. In just a few years, the business had grown substantially and the founder was not interested in doing such a large scale production as it had become. This is where Colombian Monica Piedad Sanchez Parrado came in. A mutual friend of Monica and the founder pitched the idea of buying and running the brand, then called Fitjar Soap. At first, she was not convinced of the idea. Work with soap? Where was the fun in that? But after some convincing, she hopped aboard and joined in on what was going to be an adventure.
"The two first times he asked me I denied it right away, but the third time I had to look into it, and for three months I did research on the product and the industry. After a lot of thought, I finally gave in and joined, and I have not regretted it once."

Monica Piedad Sanchez Parrado

Peeling off the Layers
The three women currently working at the soap factory are from Colombia, Ukraine and Poland. And with a Russian on her way, the company has a wide variety of nationalities and cultures with different perspectives on Norwegian culture. Monica believes that the composition of these nationalities working at Fitjar Islands is perfect to understand the essence of Norwegian culture, extract it and make a brand without the typical Norwegian national romance Norwegians tend to have. Their mission is to take care of the real story of Norwegian culture, with a modern twist to break the international market.
"The Norwegian view on Norwegian culture is so romantic that many tend not to see the essence of it. Therefore I believe that we foreigners in some ways have a better understanding of what is Norwegian culture is. We are able to see it without all the history and national romance, we are able to peel off the "unnecessary" layers and focus on the essentials."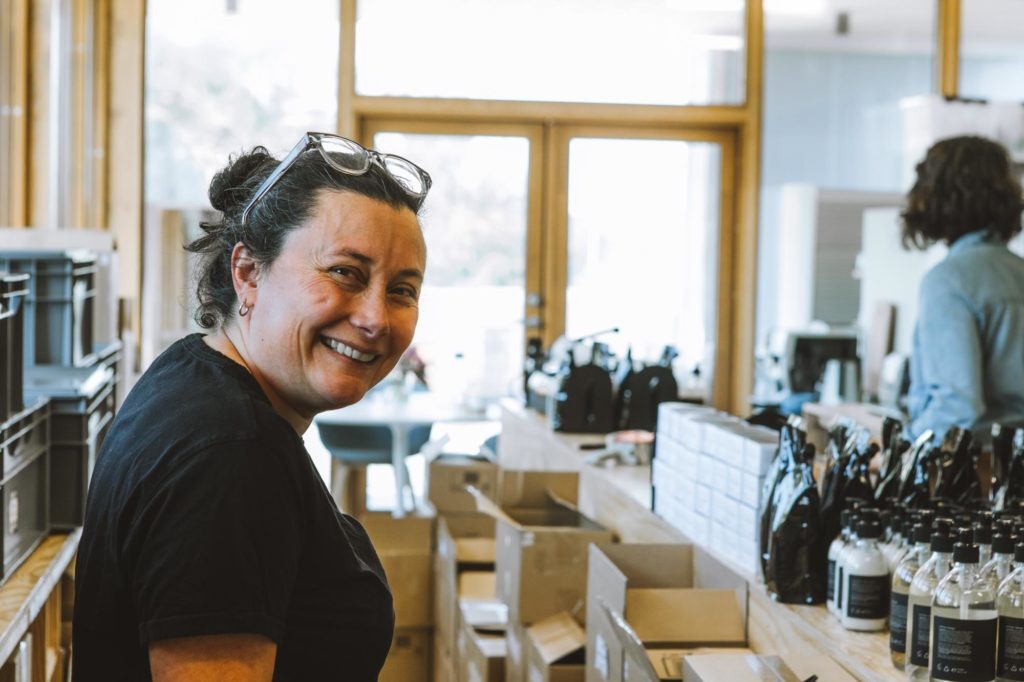 Memorable Scents
Their interpretation of Norwegian culture focuses on the beautiful nature Norway has to offer. Therefore, Fitjar Islands' make their products with pure Norwegian smells in mind, the smell of nature. The soaps' fragrances are based on Norwegian outdoors experiences; hikes in grand woods, boating in long fjords, and life on the Fitjar archipelago. The soap is a bottled interpretation of the surrounding Norwegian nature. The scents are made to evoke memories of the Norwegian outdoors, made to bring you back to a walk through wild spruce forests or a hike over majestic mountains.
"We get a lot of great feedback from customers around the world praising how our scents brought them back to past outdoor experiences"
The Production Boom
Late 2016, the then small soap factory got a contract with a group of independent restaurants and hotels in Bergen. The group was looking for local, classy and high-quality soap and personal care products to compliment their facilities. They said yes to the contract almost right away, before understanding the scope of such a deal. And almost overnight, the production mass doubled. It was an intense task, but with some restructuring and some good old hard work, they made it through it and came out of it even stronger. Today, as much as a third of Fitjar Island's income is from deals with the local service industry.
Following the deal, the production's extent has grown massively and in 2019, they produced and sold over 15.000 products in the relatively small factory in Fitjar, and they estimate to hit the 20k mark before the end of 2020. Many of the thousands of bottles are sent all around the world, indicating the success of their mission to share a little bit of Norway to the world.
---
The women at Fitjar Islands are some of the many people interpreting Scandinavian culture in their own way, and that is what's beautiful about the Scandinavian culture; the many ways to interpret it and make it your own. Here at Nuet, we focus on every aspect of Scandi culture and we publish weekly blogposts about everything Scandinavian. Read more at nuetaquavit.com/stories and follow our Instagram @nuetaquavit to get instant updates on new blog posts straight to your feed.