Walking Through Art
This is The Twist, an art gallery located in Kistefos sculpture park, one of Europe's largest sculpture parks of contemporary art. Walking through the Twist you are surrounded by the gallery's ever-changing exhibitions while walking through a sculpture of itself, a quite outstanding experience on its own. The 15.000 square feet park features sculptures and art installations by some of the worlds largest artists like Anish Kapoor, Olafur Eliasson and Yayoi Kusama, among many others. With such a rich fauna of art pieces, there is no wonder why the small-town museum has become so internationally recognizable as it has today. A walk through the park is a journey through one of the world's most unique art collections.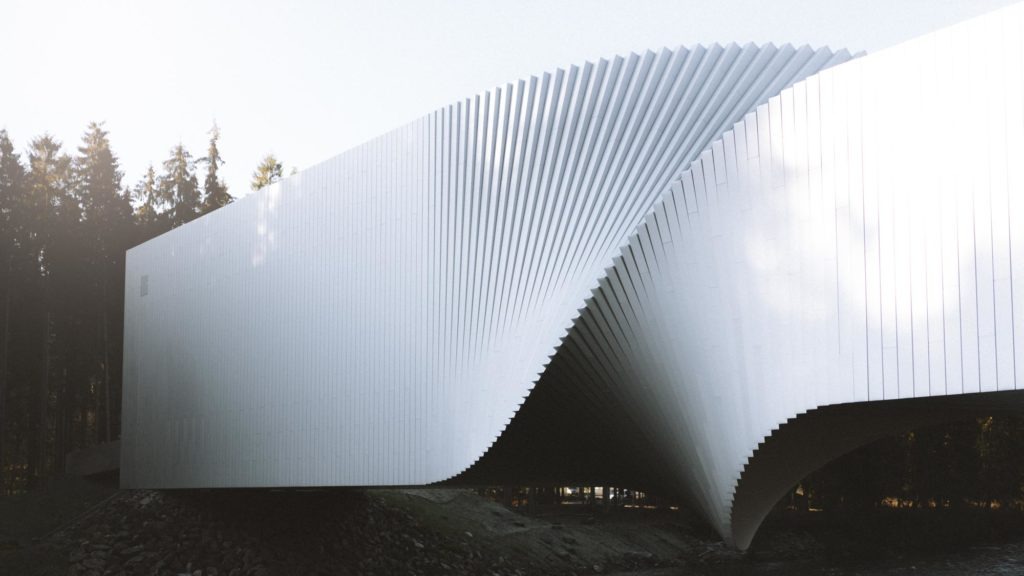 International Recognition
In its short lifetime, The Twist has gotten a lot of international attention for its groundbreaking design. People from all over the world have come to visit the architectural masterpiece, and worldwide media has sure coved the museum once or twice. British news website, The Telegraph listed the museum as one of 2019's most beautiful buildings. While across the pond, the New York Times ranked it number 21 on the list of the world's best places to visit. And this year, The Twist won the most prestigious award in the architectural world. Awarded Leading Culture Destination Awards 2020, the Twist won what is said to be the Academy Awards of Architecture, the best of the best around the globe.
A Constructional Challange
As you may imagine, constructing a unique building like this is easier said than done. Being a combination of a fully functional gallery building, a 60-metre long bridge, and a sculpture in itself, the construction has to check off many constructional boxes. Because it works as a bridge, the building has to be able to adapt to the river's constantly changing water levels, and contracting and expanding soil depending on temperature. The construction of the gallery-bridge-sculpture hybrid met a lot of obstacles on the way and experienced a few minor setbacks. But with some help of exceptional engineering and architectural skills, the gallery stands safely on the ground.
---
Interesting read? Then we suggest reading another post about astonishing Norwegian architecture; The story about Viewpoint Snøhetta, a viewpoint in the Dovre mountains featuring a panoramic view of Norwegian alpine landscape. Read more in our post, The Box in the Mountains. Here at Nuet, we publish weekly posts about everything Scandinavian. Read more at Nuetaquavit.com/stories and follow our Instagram @nuetaquavit to get instant updates on new posts straight to your feed.