Quality Sausages at its Finest
There is a reason this little hot dog stand has been in business for decades; quality. Trekroneren specialises in high-quality sausages with quality toppings. This is not just food to feed your hunger, this is a culinary experience out of the ordinary. All of Trekroneren's sausages are prepared at a local butcher just a 30 minutes walk from the stand. And all except one sausage are made exclusively by meat from local farms. The last one is the reindeer sausage, where the meat naturally comes from Northern Norway. Quality costs, and Trekroneren is by no means the cheapest sausage seller in town, but these sausages are definitively worth the extra penny.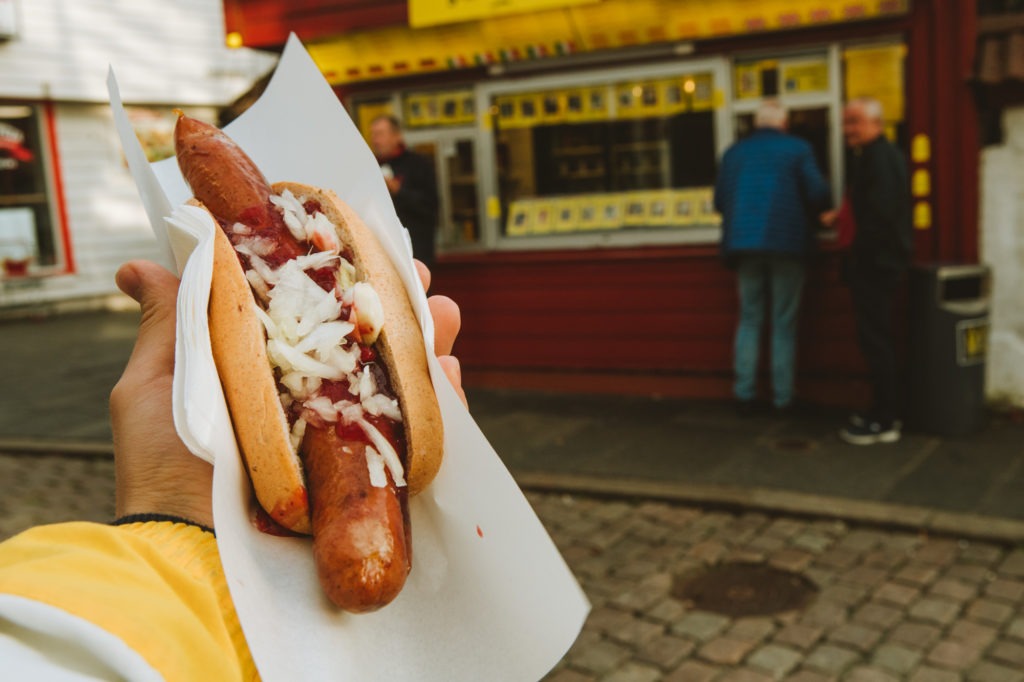 International Recognition
It may be hard to believe that a simple Norwegian hot dog stand has gained any international attention at all, but during its lifetime, Trekroneren has become world-famous. In its 74 years, the stand has received visitors from virtually every nation in the world. Its quality sausages are mentioned by Lonely Planet, Rough Guides and countless other travel blogs and magazines. The stand features menus in five different languages and has internet reviews in dozens of languages.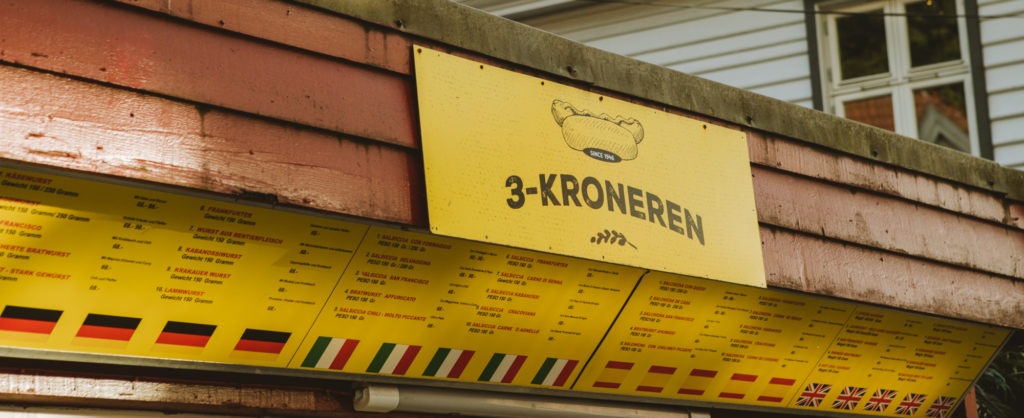 Near Destruction
Trekroneren is located just next to Bryggen, Bergens largest tourist attraction. Bryggen attracts hundreds of thousands of visitors every year, which is good for business at Trekroneren. It had always been there without problems, but in 2019 the Bergen City council looked into the beloved hot dog stand's building permits. After a deep-dive in the archives, they concluded that the stand had no valid building permits and was placed illegally on the pavement. It all started a debate and some wanted to remove the hot dog stand. But the majority of the council's members and the people of Bergen argued that the stand had been a part of the Bergen cityscape since 1946 with no complaints till that day and that the stand caused more joy than misery. The hot dog stand had become a part of the city's cultural heritage and should remain as one.
Haven't heard about Bryggen? Then we suggest reading our story, The World Heritage Docks, a comprehensive look into Bergen's cultural pride.
A Tradition
Outside Trekroneren on a Saturday evening in late August, Henning and his mate Bjørn just bought themselves a couple of sausages. They are following a tradition extending decades where they have a sausage every time they are in the city centre together. When asked about how long they have been going on they both laugh and agree that it has to be around 50 years, at least. Here they have enjoyed hundreds, maybe thousands of sausages, and they will continue the tradition until "it closes down or we die."
"I hope this place never closes down. Every time we are in the city centre we have to go here. It has become a tradition. "

Henning, Local Hot Dog Lover
Want to read more about Bergen? We just published a blog post about another important part of the Bergen cityscape; street art. Read more in our post, A Tour in Scandinavia's Street Art Capital. Here at Nuet, we publish weekly blog posts about everything Scandinavian. Read more stories at nuetaquavit.com/stories and follow our Instagram @nuetaquavit to get instant updates on new posts straight to your feed.