In Bergen's street art database there are already registered over a thousand artworks and there are probably just as many unregistered ones scattered around the city. And with new ones appearing literally every day it is no doubt why Bergen is said to be the hub of street art in Scandinavia. The city is the home to many of Europe's most reputable street artists like AFK, Argus, M.u.M and Dolk. For the average Joe, these names may not be recognizable, but in the world of street art, these are well-known and highly respectable.
Promoting the Craft
Although street art has been present in the streets of Bergen for decades, it wasn't before the early 2010s the art form really took off and became a part of the cityscape. In 2012 the city council adopted a subsidy scheme to fund and promote street art. The "Grafitti and Street Art in the culture city of Bergen 2011-2015" opened up for artists to apply for permits and funds to create artworks in different scales around the city. The city's decision to rather promote than crack down on the art form has had an overall positive outcome for both the city's artists and its residents. Companies and cultural institutions around the city are now investing in decorating their walls with this kind of art, and the museums have had several street art exhibitions, thus giving the city its artistic status.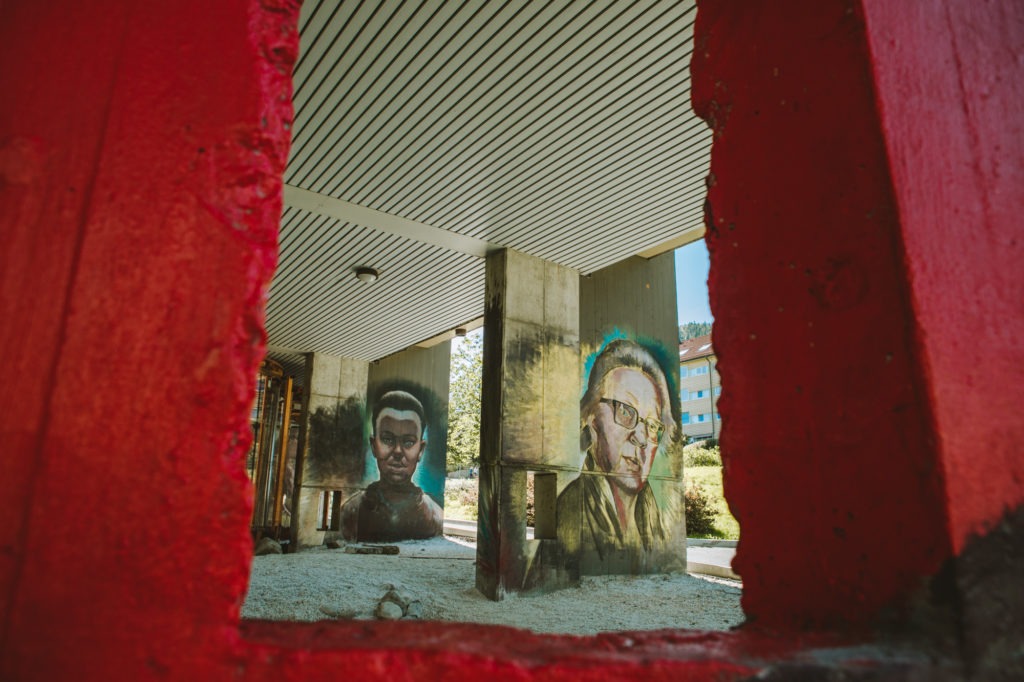 "Our task is to keep it clean and simple. We never thought that graffiti and street art would be this valuable for our city."

Henning Warloe, fromer member of the Bergen City Council
The Artworks
Bergen has a rich flora of street art with motives ranging from fairytale figures to political statements to artsy creations. One of the most well-known works was created by one of the city's best established artists M.u.M. "The Biking Troll" was created as a tribute to the Norwegian fairytale culture. The work was ordered by the city council as a part of the city's decorations celebrating world championships for bicycle road racing back in 2017. Even though the championships where a catastrophe for the Norwegian bikers, the artwork still is a proud symbol of Bergen and Norwegian culture.
The Artists
As mentioned, Bergen is full of both expereinced and aspiring street artists. On top of the podium, next to M.u.M you find AFK. AFK is internet slang for the phrase "Away From Keyboard", which fits his artistic chracter well. Few really know who AFK as a person, but most of Bergen's inhabitants have seen one or two of his works. He is known for both large political statements and smaller more innocent artworks. Although his works has been known since 2013, he still remains anonymous to this day. No one knows when or if he will reveal his identity, but we do know that his work will keep inspiring new artists, both in Bergen and around the world.
"Anonymity gives me the freedom to be myself and the freedrom to express my art…"

AFK
Want to read more about the culture of Bergen? Then we suggest reading our story on Bryggen, the World Heritage Docks. Here at Nuet we publish weekly blog posts about everything Scandinavian. Read more stories at nuetaquavit.com/stories and follow our Instagram @nuetaquavit to get instant updates on new posts straight to your feed.