The Journey
It is Friday at 11 o'clock, and we are on our way to pick up 40 kilos of coffee grounds. With five large containers in the back of the van, we depart from King Coffee's headquarters at Fornebu outside of Oslo. We drive a little while before we come to stop one out of three on today's tour. This is a large office complex with over a thousand employees. Imagine the number of coffee grounds in your coffee machine every morning. Now multiply that with a thousand, and you have the amount of coffee we're picking up. The journey continues into Oslo city centre, where we stop by a few more offices before we arrive at Vollebekk on the opposite side of the Norwegian capital from where we started. Here we drop off the coffee grounds in two containers marked with a sign saying «Gruten», Norwegian for "the coffee grounds".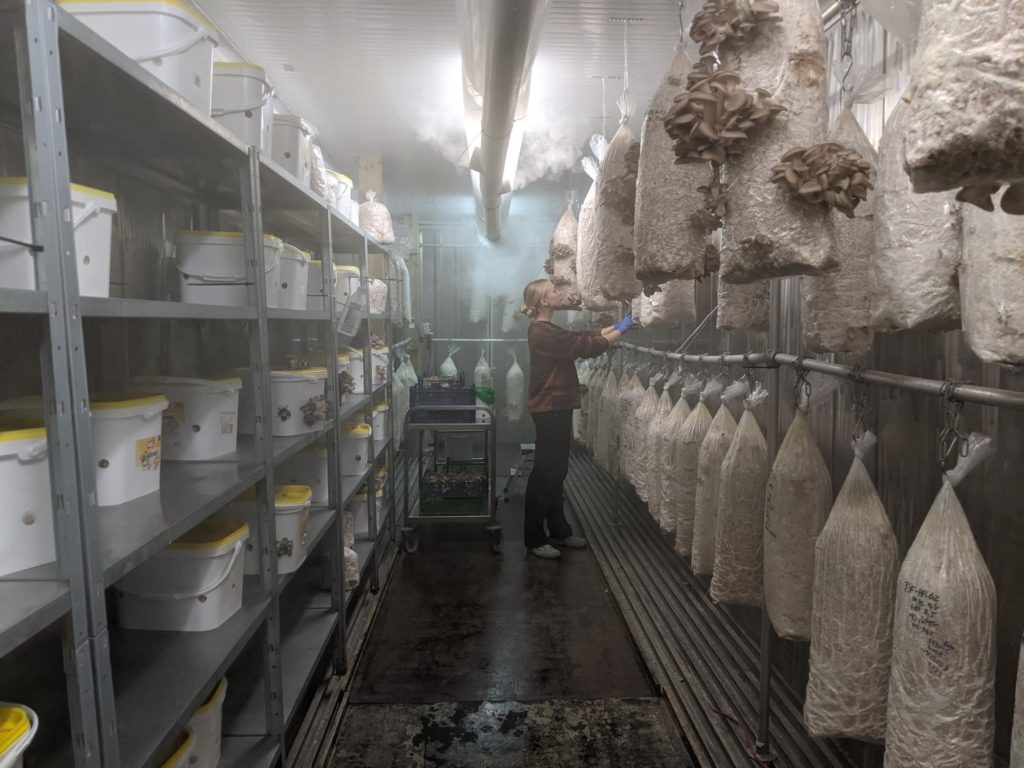 The Container
In these containers, tonnes of oyster mushrooms are produced, just from coffee grounds. Since 2014, Siri Mittet from Ålesund has run Gruten, a business producing different products out of coffee waste, like soaps and body scrubs. Two years ago Siri wanted to get into urban agriculture and figured that the coffee waste she already was collecting could be used to grow oyster mushrooms. She got ahold of two large containers and started out producing her mushrooms. Along with Konrad, which is the head of production, and a little help from some others, they grow about 40 kilos of oyster mushrooms a week.

Want to read more about urban agriculture in Norway? Then we suggest reading our story, Oslo's Urban Agricultural Oasis.
The Demand
You may ask how large the demand for oyster mushrooms grown on coffee waste is, and the answer to that is: there is a large demand. Gruten has no problem of selling out every single mushroom they produce and are already planning to expand with a goal of doubling the production capacity by the end of next year. In the nature, oyster mushrooms usually grow on rotten trees and logs in the forest, but they are also well-suited for growing on pure coffee waste. The mushrooms are nourished by the cellulose in the wood and the humid air in the Norwegian forest. Just like trees, coffee grounds are full of cellulose and with an automatic humidity regulator in the containers the conditions for good mushrooms are perfect.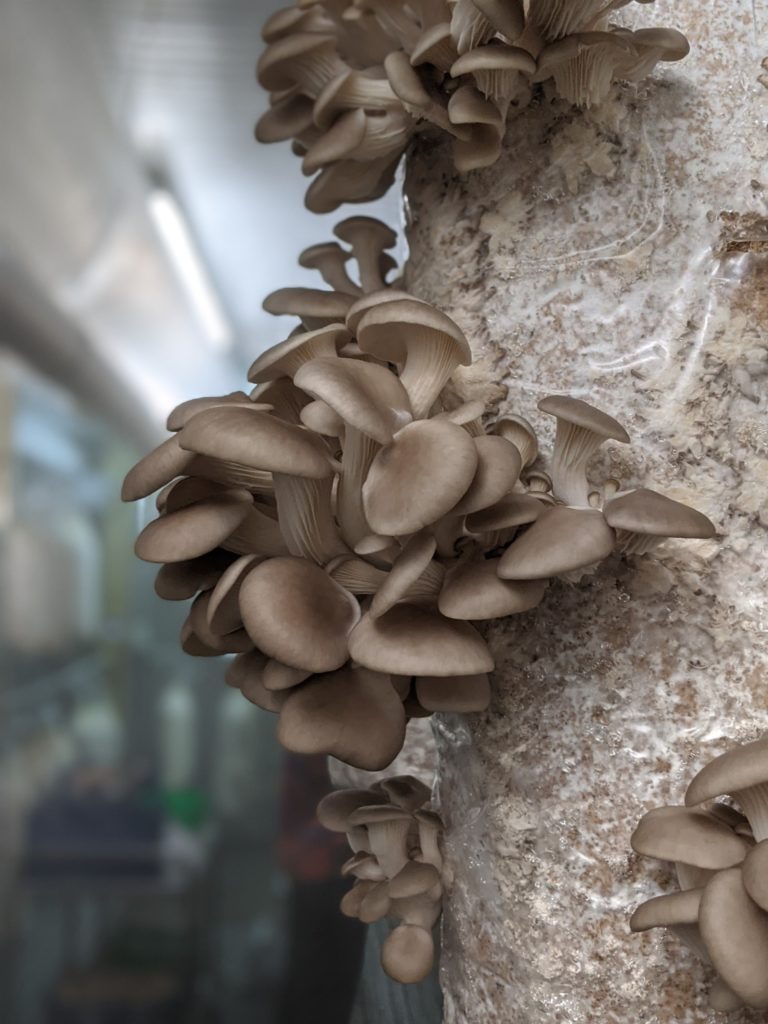 The Flavour
Although the materials are different, the mushrooms' flavour is not affected by the coffee grounds. They still have their rich, earthy flavour oyster mushrooms are known for. This is why Gruten's mushrooms are so sought after. Especially restaurants that want to excel in taste as well as keeping the environmental impact of their food low have Gruten mushrooms on their menu. If you want a taste of locally grown mushrooms you can stop by Txotx and Funky Fresh Foods to experience food grown from waste.
The Movement
Gruten is an important piece in an ever expanding focus on our environment, as well as where and how we get our food. Just like the Losæter Urban Farm, Gruten's vision is to expand people's knowledge about their food and the story behind it. All over the world, and especially in Scandinavia people are figuring out new ways to enjoy life in more enviromental friendly ways. The green wave washing over us are the reason why initiatives like Gruten exist. Hmmm.

---

Here at Nuet, we publish weekly blog posts about everything Scandinavian. Read more at nuetaquavit.com/stories and follow our Instagram @nuetaquavit to get instant updates on new posts.