Simplicity Is Key
Kôlbôhttn is one of the simplest meals in the Swedish kitchen. Based on just three ingredients; barley flour, salt and water it is a simple, yet tasteful meal. Originating from Särna, a small area in central Sweden, it is said that there are as many variations of Kôlbôhttn as there are families in the area. Because virtually everyone has custom ingredients in theirs. Hundreds of kilometres north, in Vesterålen, Northern Norway, Adam and his family live. They are of Swedish descent, and even though they live in the cold north, they still honour the tradition of the Southern Swedes. In addition to the standard ingredients, Adam's family adds some eggs and a little milk for some extra nutrients and a richer taste.
Lumberjack's Lunch
Kôlbôhttn has its roots back in the golden era of Swedish lumber production. Hundreds of men spent hours and days in the forest logging, moving, and processing lumber. There's no doubt that such manpower had to be fed, and it had to be done efficiently. The lumberjacks worked long and physically shifts, so they had to have all the energy they could get. Kôlbôhttn was an energy-rich, cost-efficient, and tasteful meal, perfect for a day in the woods. They mixed the flour and salt with water from nearby freshwater streams and started cooking. The workers gathered around a makeshift oven, made by stone. It was too inconvenient to flip the kôlbôhttn in the oven, so it had to be made in two layers with fire over end under so it would get the same heat on both sides.
Today, the Swedish lumber industry is more dependant on heavy machinery and does not require the manpower it once did. As a result of this change, Kolbotten is no longer a necessity for the Swedish lumberjack, but it still lives on as a culinary tradition for many Swedes. Served with side bacon and messmörsås, a caramel-ish butter sauce, Kôlbôhttn is an unusual, but tasteful meal.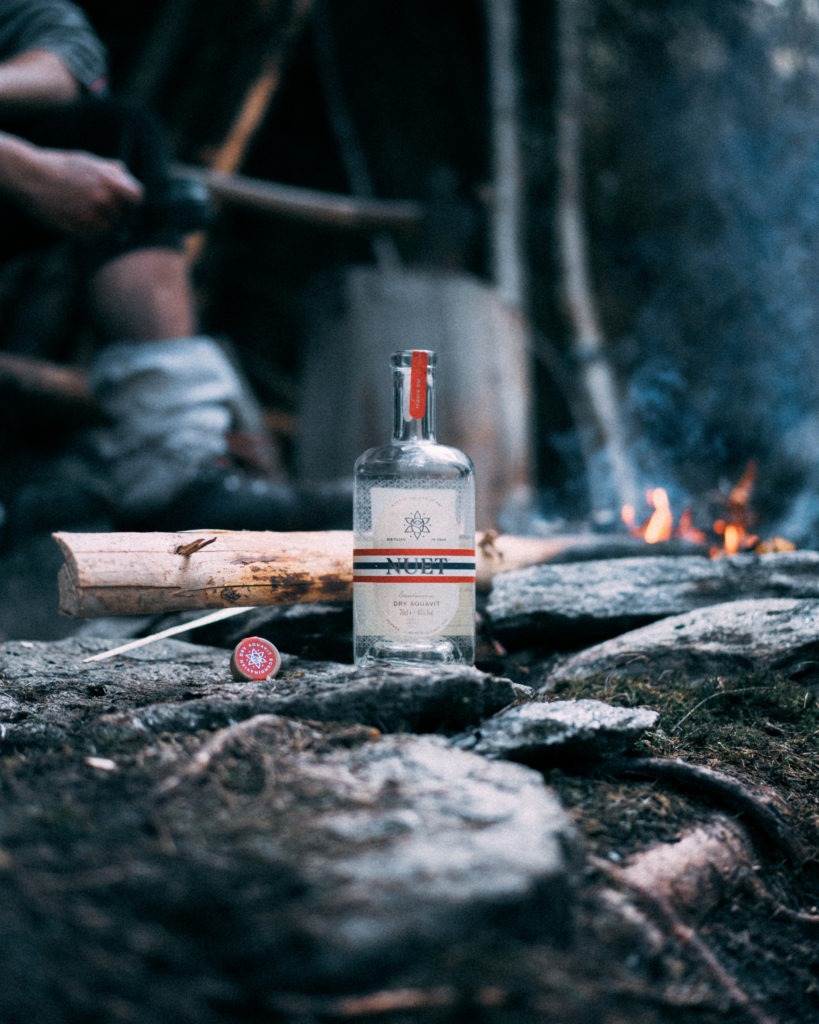 Have a Drink
You should never have a meal without something to drink. When the Swedish lumberjacks worked in the forest, kôlbôhttn was usually accompanied by milk, water or coffee. But on special occasions, like the national day, midsummer or the last day in the forest for the season some celebrated the happening with a schnapps of Swedish Aquavit. Schnapps are small shots of spirits served in company with food, to celebrate both smaller and larger moments. And on that note, we suggest trying out Nuet Dry Aquavit, your own Scandinavian moments in a bottle.
---
Interesting read? Then we suggest having a look at our post about the 250-year-old bakery in Stavanger, Norway. Here at Nuet, we publish weekly blog posts about everything Scandinavian. Read more at nuetaquavit.com/stories and follow our Instagram @nuetaquavit to get instant updates on new posts. And, if you're super interested, you could sign up for our newsletter at the bottom of the site, and get a chance to win a free bottle of Nuet Dry Aquavit.