The Harvest
It's Tuesday. The first day of the restaurant's week. The sun shines through holes in the cloudy sky from time to time. It's about 12°C in the air, 8°C in the ocean. A fresh breeze flows by here and there. Just a typical day in the middle of May. Nicolai, Andreas and Andrea are garbed in wet suits and ready for this morning's harvest. Today's goal: Eight tubs of seaweed and a bucket of Ascophyllum, a brown seaweed mostly seen in the Northern Atlantic. Head chef at Restaurant Under, Nicolai Ellitsgaard calls it truffle algae because of its distinct truffle-like taste.
Super Local
After about an hour of harvesting in the small bay, Nicolai and his team have gathered what they need for the coming week. So they head back to the restaurant. Conveniently, they're about a hundred metres away from the restaurant, so it is not that long of a walk. For Nicolai, it is important to use locally sourced ingredients. The goal is that all produce that can be gathered in the area should be. Of course, pepper plants and olive trees are far from normal in Scandinavia, but most of the fresh ingredients are sourced right here in Lindesnes. With cod and mackerel swimming past the restaurant's massive glass window, lots of algae in the bay and sea urchins by the beach they basically have their whole menu right outside the restaurant.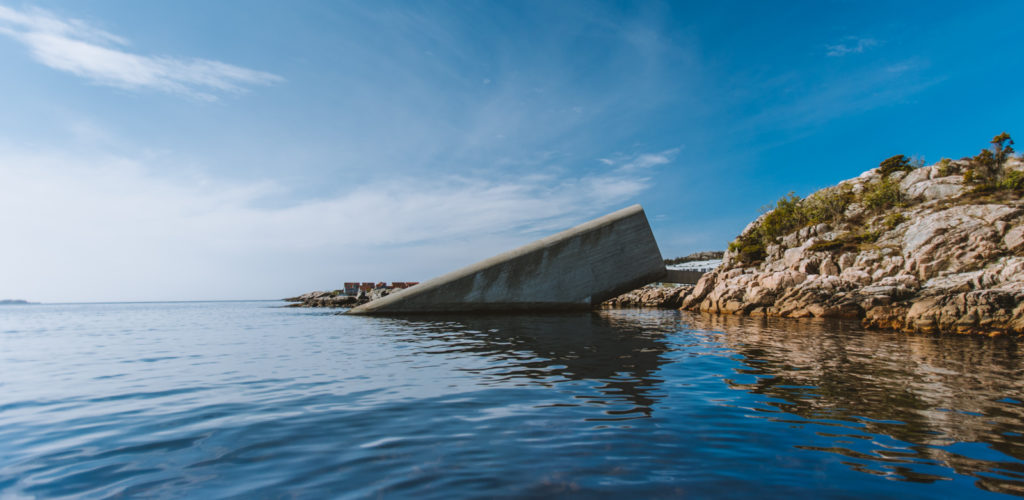 The Michelin Menu
Being a restaurant submerged into the ocean it goes without saying that the menu has to be mainly maritime. With a seasonal menu constantly evolving, the restaurant offers a culinary experience you'll never forget. During the course of the night, you may encounter blue mussels, traditional fish pudding, scallops, crab, and of course, algae.  In the spring of 2020, just ten months after their first guests had their first taste of the Norwegian sea, Restaurant Under won their first Michelin star. The Michelin guide describes Under's menus as "a surprise multi-course menu, that offers creative, original dishes inspired by Norwegian classics." The head chef had an ambition of getting one at some point, but could not believe it himself when they got it within a year of business.
In addition to being Europe's first underwater restaurant, Restaurant Under is a true architectural masterpiece. Read all about its construction and meaningful design in our blog post, the Sunken Restaurant.
In the Water
During the past decades, as the importance of environmental protection and the effects of climate change has entered the political agenda, people have looked more to the sea for solutions. As one of our problems may be struggling to produce enough food on land, some people start experimenting with maritime produce we might not traditionally think of as food. In Norway, chefs try to use the tonnes of algae along our shores to our advantage. During the past years, several brands have launched algae and seaweed products for consumers. From spices to snacks, soft drinks to salads, algae is becoming a larger part of ordinary people's culinary experiences. At Under, Nicolai Ellitsgaard wants to keep growing this trend by using algae and seaweeds in their menu. It is not just for the trend, of course. It has to taste good. Which it does.
Ready for Tonight
Back in the kitchen, having showered and dressed into their uniforms, the team is ready to prepare dishes for the night. Here, the produce is sorted and made ready for an evening of exceptional cuisine. One of tonight's courses is a fish pudding inspired by Norwegian traditional cuisine, garnished with a blue mussel and Nicolai's truffle algae. The bowl is decorated with non-edible seaweed harvested right outside Under just hours earlier. Now it's just to wait for the guests to arrive, and let the magic happen.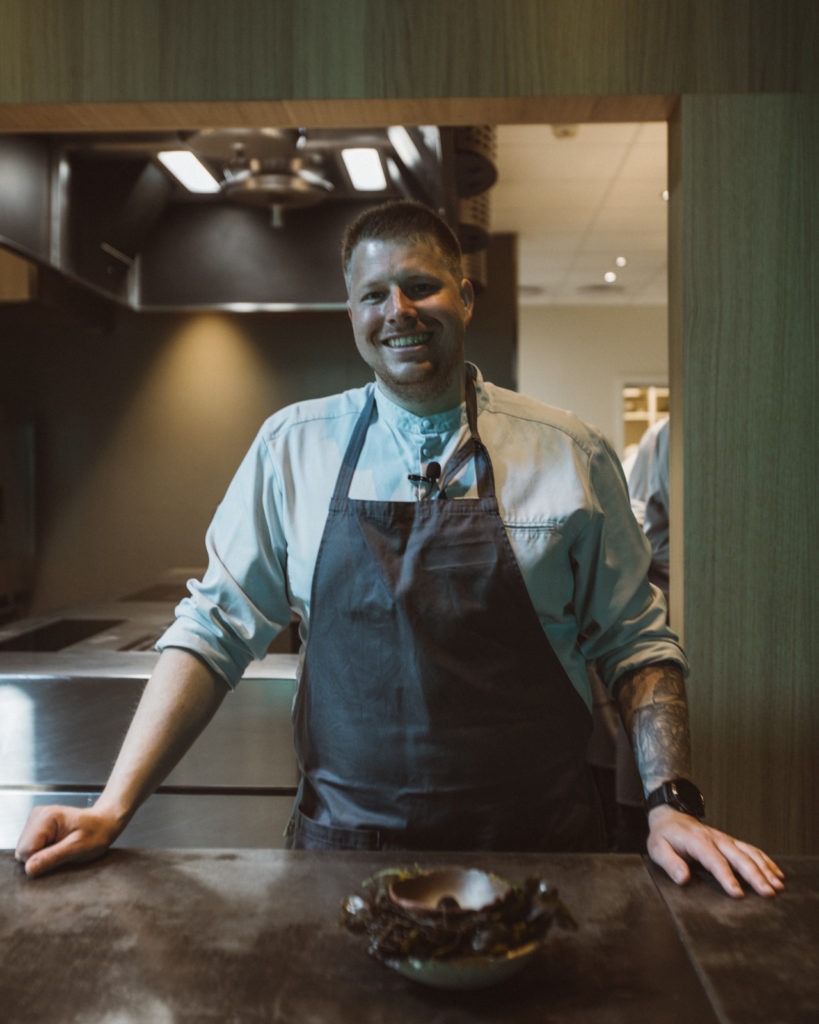 ---
Interesting read? Here at Nuet, we publish blog posts about everything Scandinavian. Read other stories from our Scandiverse on our blog, and follow our Instagram @nuetquavit to get instant updates on new posts.