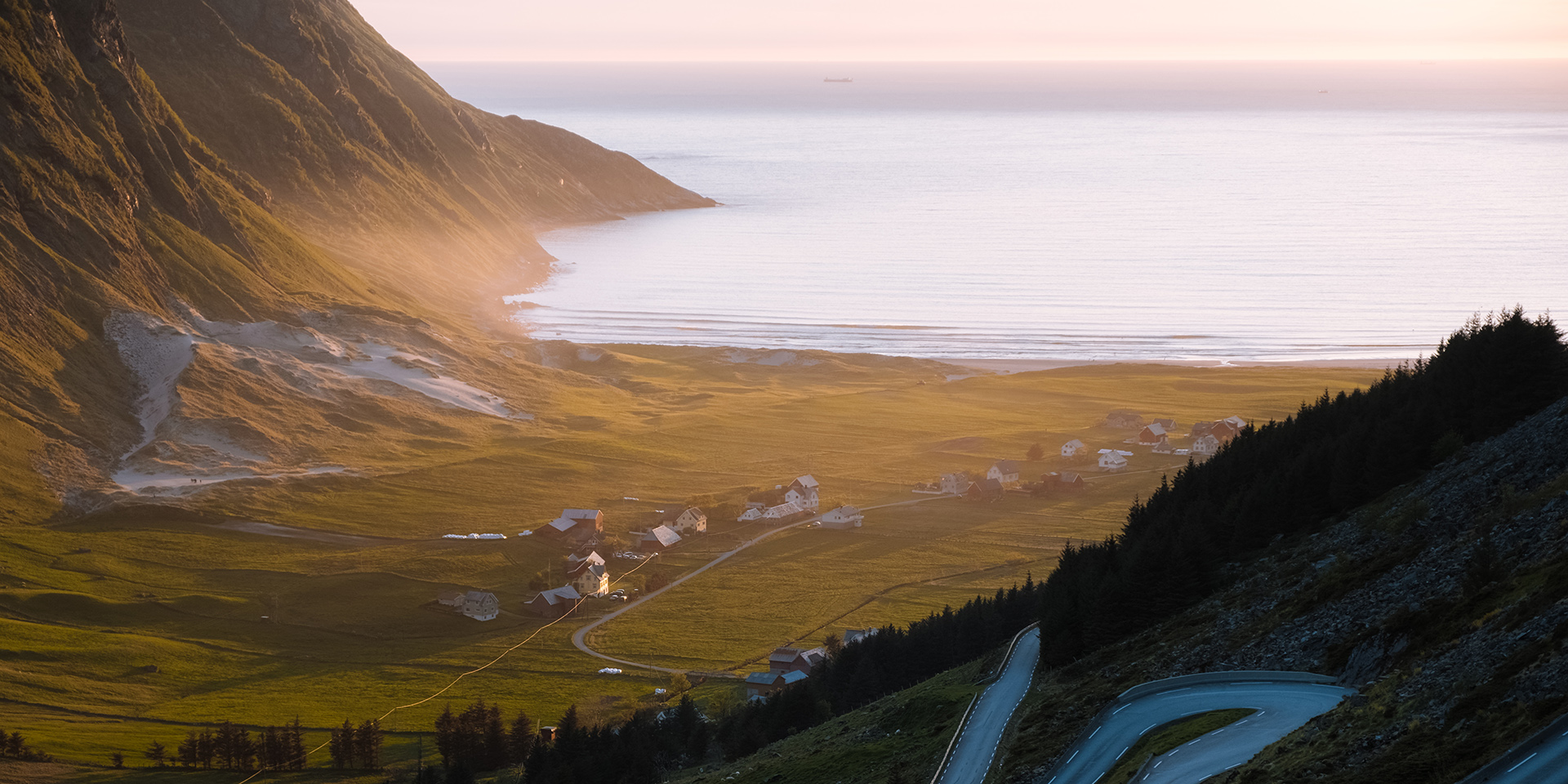 Frequently Asked Questions
Where can I find your product?
In Norway, as a consumer, you have to order from Vinmonopolet if you want a bottle of your own, and in Sweden you can order a bottle from Systembolaget's website. You can hopefully find us on the shelves of your local bar as well. Our plan is to one day be available in relevant bars all around the world, so if you want us to make an appearance at your local bar, wherever in the world you live, get in touch on order@nuetaquavit.com. Bars and restaurants can order from Vinhuset in Norway, and Galatea in Sweden. We also ship worldwide from our own webshop, and we are available at Master of Malt, Whisky Exchange, Hedonism Wines and Gerry's.
---
What are the main ingredients in Nuet Dry Aquavit?
While the exact recipe is a well kept secret of ours, we can tell you that Nuet Dry Aquavit is based on Norwegian potatoes from Hoff, in line with tradition. The main characteristics of our aquavit comes from grapefruit peel, blackcurrant, and blackcurrant leaves, as well as caraway, which is tradition in Norwegian aquavits. Our caraway is sourced from Inderøy in Norway, and the rest is sustainably sourced by Joseph Flach & Sons. There are no allergens in Nuet Dry Aquavit.
---
Are you hiring?
We are always interested in speaking to people who truly share our passion for quality, innovation, and Scandinavian living. We are growing rapidly, and talented and nice people are therefore always needed. Email us at hello@nuetaquavit.com if you believe you can add value to our team.
---
Can I invest in Nuet?
At the moment, Nuet is very well funded. We are, however, always open for a chat with investors who can add more than just capital, that share our vision, and that are willing to think in terms of decades, not years. If this is you or your company, drop us an email at hello@nuetaquavit.com.
---
What does aquavit taste like?
Traditional aquavits from Norway and Denmark in particular are usually quite heavily influenced by herbs and spices like caraway, fennel, and anise seeds, which makes them quite strong and spicy. Some would say this is an acquired taste, and that the caraway influence can be a bit overbearing. The fennel and anise seeds tend to enhance the sensation of caraway, and the trifecta tends to exaggerate the sensation of alcohol, giving it a "burning" sensation. This has lead to reviews like this one from the Norway Pavilion at Epcot in Florida:

"We asked one of the Norwegian cast members her opinion of Aquavit, and we were greeted with a wrinkled-up nose. I gotta tell ya, after sipping it, I'd agree with the summation.
We decided that it tasted a whole lot like cough syrup…but licorice cough syrup, which is a little better than normal I guess. Regardless, a couple of sips were enough to confirm that this probably wasn't something I needed to do again immediately."

Nuet Dry Aquavit is different, in that the fennel and the anise seeds have been replaced by fresher botanicals like grapefruit peel, blackcurrant and blackcurrant leaves, and the caraway (sourced from Inderøy, Norway) has been better balanced. The result is aquavit that takes the best from tradition and from modern thinking; smooth and fresh aquavit that works just as well neat as in a wide range of drinks. It is the world's first super-premium aquavit, and that is also why the prestigious London Spirits Competition named the Nuet Dry Aquavit "…the world's first aquavit that serves as a proper premium gin substitute" in 2020. A stark contrast to the review above.
---
What is aquavit similar to?
Traditional aquavits, with their influence of heavy herbs and spices, could perhaps be compared to the likes of Fernet Branca. Nuet Dry Aquavit, however, is harder to compare to anything currently on the market. Perhaps a hybrid between traditional aquavit and London dry gins. But for now, there really is nothing quite like it available on the market.
---
How do you drink aquavit?
Traditionally, aquavit is enjoyed neat during celebrations like Christmas and midsummer in Scandinavia. The heavy influence of spices and herbs combined with it often being barrel-aged makes it unsuitable for use in drinks, and more suited to enjoy neat with heavy fatty food. Nuet Dry Aquavit is different. When developing the recipe, the team had two litmus tests the aquavit needed to pass in order to be approved: It had to really shine in a dry martini, and it needed to work very well with tonic water. This is why London Spirits Competition named it "…the world's first aquavit that serves as a proper premium gin substitute" in 2020. You can enjoy Nuet Dry Aquavit neat or in a wide array of drinks, from our signature serve the Nuet Lemonade (Spritz) to a classic normally gin-based drink. Visit our cocktails section here for video tutorials on how to make simple fresh drinks at home or in a bar.
---
What is the difference between aquavit and vodka?
The basics are much the same. The base spirits are usually made from potatoes, and the distillation process is usually much the same. The difference tends to come from the fact that traditional aquavit uses plenty of herbs and spices (like caraway, fennel, anise seeds) that vodka doesn't, and that traditional aquavit is often barrel-aged, giving it sweetness and a brownish tint. Nuet Dry Aquavit is also different from vodka in that we use plenty of herbs and botanicals in our distillate, and at the same time, it's different from most aquavits as well, as it doesn't need ageing. Our botanicals are macerated 24 hours before distillation, and then we use a vapor chamber to extract the most flavor possible. We then distill "low and slow" on low heat for an extended period of time, for that premium result. Hence, our product is clear like vodka, though the taste is very different. To read more about our process, have a look here.
---
What is the national drink of Norway?
Norwegians tend to enjoy their traditional Scandinavian spirit aquavit during celebrations like their constitution day on May 17th and during Christmas. It is traditionally enjoyed neat.
---
Is aquavit served cold?
Traditional aquavit is an acquired taste, with heavy influences of spices and herbs like caraway, fennel and anise seeds. Therefore, many like to cool down the aquavit before serving, as this tends to "mute" some of these spices. Nuet Dry Aquavit is different. It was made to be smooth and balanced, and should therefore be enjoyed at room temperature. Have a look at our video tutorials for simple drinks to make yourself at home here.
---
What is the most popular drink in Norway?
---
What do Norwegian do for fun?
Norwegians have a strong connection to nature, and outdoor living is an important pastime in Norway. Outdoor activities like running, hiking, skiing and camping are all popular activities in Norway. We have our own outdoor section in our blog, where we write and make short videos about all things Scandinavian. Enter our blog section here to read more about what Norwegians do for fun.
---
Can you buy aquavit in the US?
Aquavit is growing in popularity in the US, but it's still not easy to come by. We hope to be able to share Scandi moments with US citizens soon, but for now we sadly cannot.
---
How much does a beer cost in Norway?
Norway is an expensive country, mostly due to a high level of taxes to fund the welfare state. Alcohol is among the highest taxed products, so a pint of beer could easily set you back more than $10 most places in Oslo, the capital of Norway.
---
What is the alcohol content of aquavit?
In order for aquavit to be aquavit, it needs to have an ABV of at least 37.5%, and most are above 40%. Nuet Dry Aquavit is at 43% but is smooth and well-balanced so that it doesn't have the burning sensation most traditional aquavits tend to have.
---
What do Scandinavians drink?
Scandinavians tend to enjoy their traditional spirit aquavit during celebrations like May 17th, midsommar, the crayfish parties during autumn, and during Christmas. It is traditionally enjoyed neat. The Nuet Dry Aquavit can also be enjoyed neat, as a smoother and easier-to drink alternative to the heavy and spicy traditional aquavits, but we prefer it in drinks as our signature serve; the Nuet Lemonade. This is a drink that can be enjoyed all year round. Watch this short and sweet tutorial on how to make your very own Nuet Lemonade here. The Nuet Dry Aquavit was also mentioned as "the world's first aquavit that serves as a proper premium gin substitute" by the prestigious London Spirits Competition in 2020, so you may also want to try it with tonic, in a Negroni or a dry martini. See more recipes in the cocktails section.
---
How many calories are in aquavit?
Depending on the aquavit and its sugar content, it's usually around 244 calories per 100 grams. Since the amount of spirits used in a drinks is low (usually around 4cl for a normal drink), the amount of calories is also usually far lower than for the likes of a beer. The Nuet Dry Aquavit has no added sugar, as opposed to most other aquavits.
---